Installation Design - Display
Why Enter
Whether you are a design creator or a design commissioner you can make your mark on the Melbourne design scene by entering the Melbourne Design Awards.

Design Creator
• Gain recognition for your design achievement
• Increase awareness of your work and gain design public and peer comment
• Increased exposure to your potential customers and clients
• Bench mark your work with your peers
• Opportunity to gain national publicity and exposure

Design Commissioner
• Provides a mark of distinction for your product
• Further evidence of excellence in product development
• Bench mark your product with those of your peers
• Increased exposure of your brand / product
• Opportunity to gain national publicity and exposure

Description
This award recognises a temporary building or interior. Consideration given to furnishings, fixtures, stands, signage and traffic flow.
Current entries
Installation Design - Display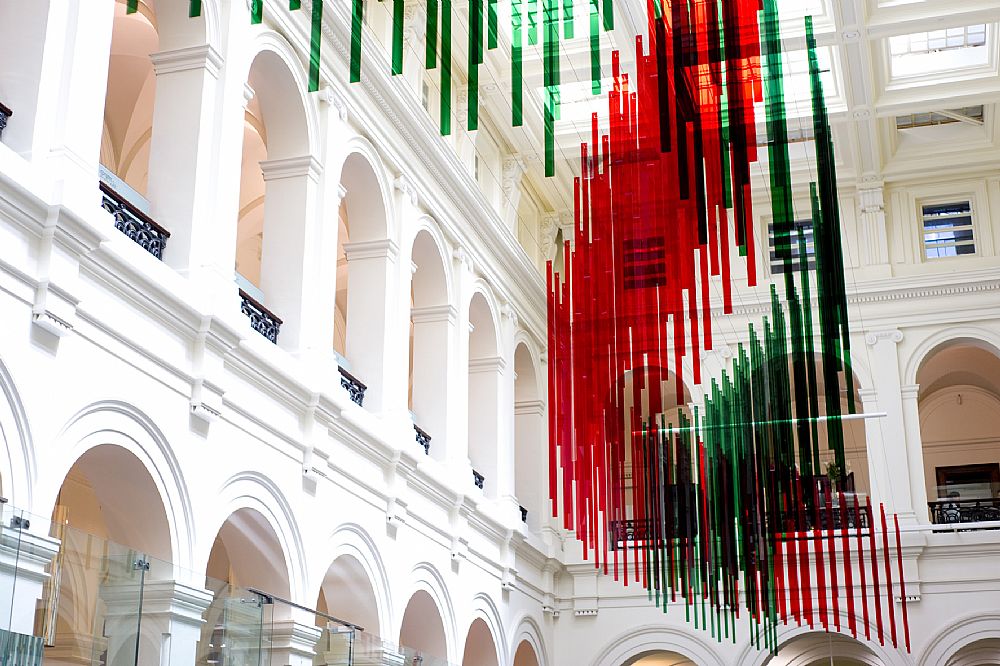 The designer brands housed in Melbourne's GPO share the same philosopy. Each offers uncompromised inspiration, sophistication and style. Our objective was to reflect these ideals in a fresh and contemporary interpretation of Christmas. 500 acrylic shards form 2 ribbons of brilliant colour. Illuminated by the Postal Hall's glass ceiling during the day, the shards shimmer and glow with light.
Installation Design - Display
The State Library of Victoria is one of Melbourne's pre-eminent cultural institutions with visitor numbers of more than 1.5 million annually. In 2003 they re-expressed their founder's principle in the tagline 'Information. Ideas. Inspiration. For Everyone.' Then a few years later, they embarked on the slv21 strategy, Where they declared the Library's aspiration for the digital age to 'put information into the hands of all Victorians when and where they want it'. The first physical representation of that strategy was to introduce a future-facing tower that will become the platform to launch digital technology that visitors could interact with. Harkess-Ord was engaged to develop a tower that will act as a focal point whilst remaining simpatico with the language of the architecture of the library and hold current and future digital technology.
Installation Design - Display
The pod is about encapsulating the user with a sense of space that can be related back to self. Focus was given to creating a cocooned feel within the pod whilst framing and allowing a focus and a softening of usually stark bath wares and finishes.
Installation Design - Display
Creating a showroom that is engaging, informative and simple to guide our clients through. Our goal was to design a space that allows our clients to make informative selections, at ease, from the range of light fittings and electrical products for their new home. The space is aimed to create a sense of brand and to communicate information visually with the use of signage/banners, colours and visual displays.
CATEGORIES
Marketplace Categories
Space
Visual
Object
Experience
Fashion